N2200EVO
Evolve Your Digital Home
Fonctionnalités
DLNA-Compliant Media Server
Thecus NAS make an excellent media server and can easily store huge libraries of songs, pictures, and movies. The DLNA-Compliant Media Server allows you to stream all of your multimedia on your TV, stereo, or mobile device.



Acronis True Image
Thecus brings the best to the table with Acronis's advanced backup software. Back up all your data with One-click Protection or pick and choose only your most important files. Acronis sports a slick interface, user-friendly design, and comprehensive features to keep your data safe.

Rsync
Backing up your data is very necessary, and everyone has specific needs when it comes to storage. Thecus's Rsync functionality gives users great flexibility with remote backup capability, a flexible scheduler, and the stability of Linux-based transfer.

Energy Saving
The power needed to keep your NAS up and running can greatly add to its overall cost. Lower your Total Cost of Ownership with the N2200EVO's advanced power saving features. With scheduled power on/off, you can tell your N2200EVO to only turn on during certain times during the day. And with auto disk spindown and an enhanced power saving design, the N2200EVO is a veritable energy miser.

AJAX
Getting your N2200EVO up and running shouldn't be a hassle, which is why it comes equipped with a Simple Setup Wizard to guide you through the entire setup process. Once you're up and running, the new AJAX-based user interface makes using the N2200EVO simple and hassle-free.
Aperçu
Building on the success of the popular N2200PLUS, Thecus is releasing a new 2-bay model aimed for home use. The N2200EVO provides users good speed and great value, with transfer rates over 50MB/s and a host of backup. Thus, multimedia functions makes it easy to keep data safe while creating movies, music, and photo hub for your home.
The N2200EVO's dual-core Cavium processor is powerful enough to handle large backups, web hosting, photo serving, multiple users, and even streaming HD video. Although it is ideally suited for home use, with a maximum capacity of 6TB it can also easily fit into a small business environment to act as a central cloud storage or backup server among many other things. To cut down its carbon footprint as well as save on electric bills, the dual-core Cavium has extremely low power usage and with scheduled power on/off, the N2200EVO will only be on when it needs to be.
- Thecus Firmware includes support for all the newest advances: XFS, 3TB HDD, SATAIII HDD, an open source module system, and more.
- The powerful Acronis Backup software makes backups easy and keeps your data safe!
- A wide array of free modules are available from www.thecus.com or the Thecus UI, including:
a. A download manager for BitTorrent, eMule and HTTP. You don't even need to switch on your computer!
b. The brand new Piczza! photo server, which allows you to share your pictures with friends and family in a smart and easy-to-use interface.
c. A Web Disk module to upload and download data simply and easily to and from your NAS.
"Home users are educating themselves and learning of the importance of data backup and also the fun of a home media center. The N2200EVO fulfills these specs among many others extremely well and does it all at a great value," said Florence Shih, Thecus Technology General Manager. "The dual-core Cavium also makes sure you get good performance without testing your electricity budget."
"Cavium is delighted to be working with Thecus in introducing the revolutionary 2-Bay NAS product to the market," says Douglas Cheung, Director of Marketing for Consumer and Home Networking at Cavium. "Our ECONA family of dual-core System-On-Chips (SoCs) deliver best–in-class NAS performance with the lowest power consumption. N2200EVO leverages these attributes of ECONA SoC to deliver an energy efficient 2-bay solution without compromising the performance or cost targets."
Spécifications
1. Spécifications matérielles
Composant
Spécifications
Processeur
Dual-core Cavium SoC Processor
Mémoire vive
256MB DDR2
Interface LAN
RJ-45x2: 10/100/1000 BASE-TX Auto MDI/MDI-X
Interface USB
Ports USB 2.0 hôtes x1 (arrière x1)
Port cible USB 2.0x1 (avant x1, )
Interface disque
2 x SATA en interne

Alimentation électrique
Adaptateur d'alimentation externe
Contrôle thermique
Température disques
Température système

Avertissement sonore
Fréquence réglable
Boutons
Alimentation (avant, arrêt contrôlé par logiciel)
Redémarrage
Bouton copie USB
Environnement de fonctionnement
Température: 5 à 40 degrés Celsius
Humidité: 5% jusqu'à 80 %RH
Châssis
Tour métal
Taille (HxWxD)
213.59 x 115.17 x 139.2 (mm)
Poids
2.7Kgs

2. Spécifications logicielles
RAID
Modes RAID
RAID 0, 1et JBOD
Reconstruction automatique
Gérée
Échange à chaud (Hot-swap)
Géré
Disque
Gestion de l'énergie
Arrêt paramétrable des disques en cas d'inactivité
Recherche mauvais blocs
Gérée
Informations SMART
Gérées
Réseau
Configuration
IP statique, IP dynamique
Partage IP
Peut être activé/désactivé
Protocoles de transport
TCP/IP/AppleTalk
Protocoles de fichiers
SMB/CIFS, HTTP/HTTPS, FTP, NFS, AFP
Accès aux données
Systèmes d'exploitation clients gérés
Windows XP and after
Windows Server 2003 and after
UNIX/Linux
Mac OS X
FTP
Serveur FTP intégré avec contrôle de la bande passante
FTP sécurisé
Serveur FTP sécurisé intégré avec contrôle de la bande passante
TFTP
Serveur TFTP intégré
Gestionnaire de téléchargement
HTTP/FTP/BitTorrent/eMule (via DLM module)
NZB (via NZB module)
Serveur d'impression (IPP)
Gestion des imprimantes USB
Gestion d'imprimantes IPP variées
Les clients peuvent gérer les tâches d'impression (lister/supprimer) via l'interface utilisateur web
Sauvegarde des données
Client de sauvegarde incrémentielle des données
Acronis True Image (OEM)
Client de reprise d'activité du système
Acronis True Image (OEM)
Copie USB
Copie USB vers emplacement désigné du NAS (via USB Copy Module)
Sauvegarde du NAS vers un périphérique USB
Gérée (via USB Backup Module)
Copie USB bidirectionnelle
Gérée (via USB Copy Module)
Logiciel de sauvegarde côté client
Thecus Backup Utility (pour Windows/Mac)
Sauvegarde Rsync
Via Rsync pour copier les données entre deux systèmes (via Rsync Module)
Mac OS X Time Machine
Compatible
Gestion de l'alimentation
Planification marche/arrêt
Gérée
Gestion des volumes
Système de fichiers disponible
XFS
Support multimédia
Serveur iTunes
Types de fichiers gérés: AAC, MP3 avec tag ID3, WAV
Serveur Web Piczza!™ (via module)
Types de fichiers gérés: GIF, JPG (JPEG), BMP, PNG
Gestion de l'affichage des données Exif
Gestion des diaporamas

Serveur Media
Prise en charge du protocole de streaming AV uPnP (via Twonkymedia Module)
Surveillance basique
Compatible jusqu'à 2 cameras IP (via IP Cam Module)
Identification des utilisateurs
Utilisateurs locaux
Gestion intégrée des comptes utilisateurs
Groupes locaux
Gestion intégrée des groupes locaux
Système de fichiers
Type
Journal (système de fichiers)
Langage
Gestion Unicode
Autorisations
Lecture, écriture, permission d'accès pour utilisateurs individuels ou groupes pour le partage (sous répertoires et fichiers).
Administration
Gestion multilingue basée sur une interface web
Langages gérés: anglais, mandarin traditionnel, mandarin simplifié, japonais, coréen, français, allemand, italien, espagnol et polonais.
Utilitaires
Assistant Windows (Setup Wizard)
Systèmes compatibles: Windows 2000/XP/2003/Vista/7
Assistant Mac OS X (Setup Wizard)
Notifications par e-mail
Messages systèmes envoyés via e-mail à l'administrateur système
Autres
Corbeille
Géré
Disque Web
Géré
Montage ISO
Géré
Installation Auto des Modules
Si le NAS Thecus est connecté à Internet, la liste des modules officiels disponibles sera alors affichées au sein de l'interface
Contenu additionnel
| | | | |
| --- | --- | --- | --- |
| | | | |
| Accessory Bag | Ethernet Cable | Power Cord | Power Adaptor |
| | | | |
| Acronis True Image DVD | Universal CD | QIG | Warranty Card |
Thecus TV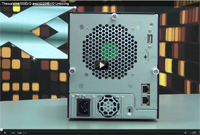 Déballage du N4100EVO et N2200EVO de Thecus
Thecus est bien connu dans le marché pour son matériel innovant mettant toujours en avant les dernières technologies à un prix raisonnable, afin de garantir à ses clients le meilleur achat possible. Le NAS Thecus N4100EVO offrira un large éventail de fonctionnalités avancées et se différenciera par faible consommation d'énergie (avec un objectif de moins de 10W au repos) pour réduire la facture électrique et diminuer l'empreinte carbone. Ce NAS très rentable est le premier NAS 4 baies sur le marché à offrir la rapidité et l'efficacité des processeurs Cavium Dual Core pour obtenir les vitesses de transfert rapides nécessaires aux travaux courants de sauvegardes et de stockage.