If you encounter any problems with the website, please contact us at:

webmaster@thecus.com
Démo de l'interface
ThecusOS™ 6
Venez faire l'expérience vous-même de la dernière interface Web de Thecus®, le ThecusOS™ 6. Cette interface intégrée au NAS dispose de nouvelles fonctions telles que la mise à jour automatique des modules et du logiciel. De plus, le ThecusOS™ 6 a été redessiné, ce qui favorise une transition plus rapide, plus souple et plus fluide lors de la gestion de votre NAS. Découvrez l'innovant ThecusOS™ 6!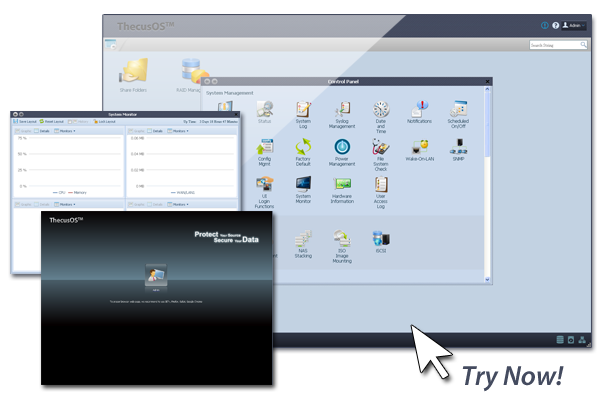 ThecusOS™ 5.0
La toute dernière interface utilisateur de Thecus® se base sur la technologie AJAX pour vous permettre plus de facilité et d'efficacité dans la gestion quotidienne des fonctionnalités de votre NAS et de vos données.